Jump to Recipe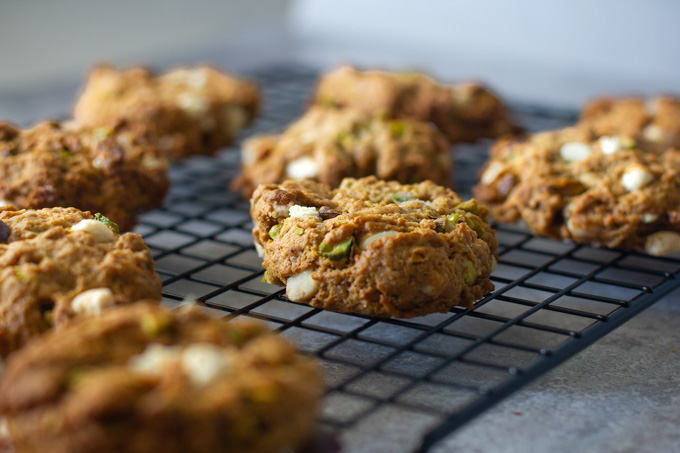 20 new year's resolutions for 2020:
1. Read more books. I recently started putting it on my "must do" list to read at least half an hour a day. I admit, there are days when I really force myself, but it is important for me to reconnect with this simple activity and the quiet it brings with it. It is also important to me that my children will see me read.
2. Produce less garbage. 2019 has been a year with lots of ecological insights. I gave up on all disposable dishes long time ago, I try to sort all my garbage as I should, we all have reusable water bottles and straws and I even reduced dramatically my disposable wipes consumption. In 2020 I'll step it up even more.
3. Do a billion pieces puzzle (well it doesn't have to be a billion but you get the point). It's a hobby I once had and neglected with the kids and the many screens that entered my life in the last decade… This winter, it's time to mark this section on the list, plus puzzles are really cheap.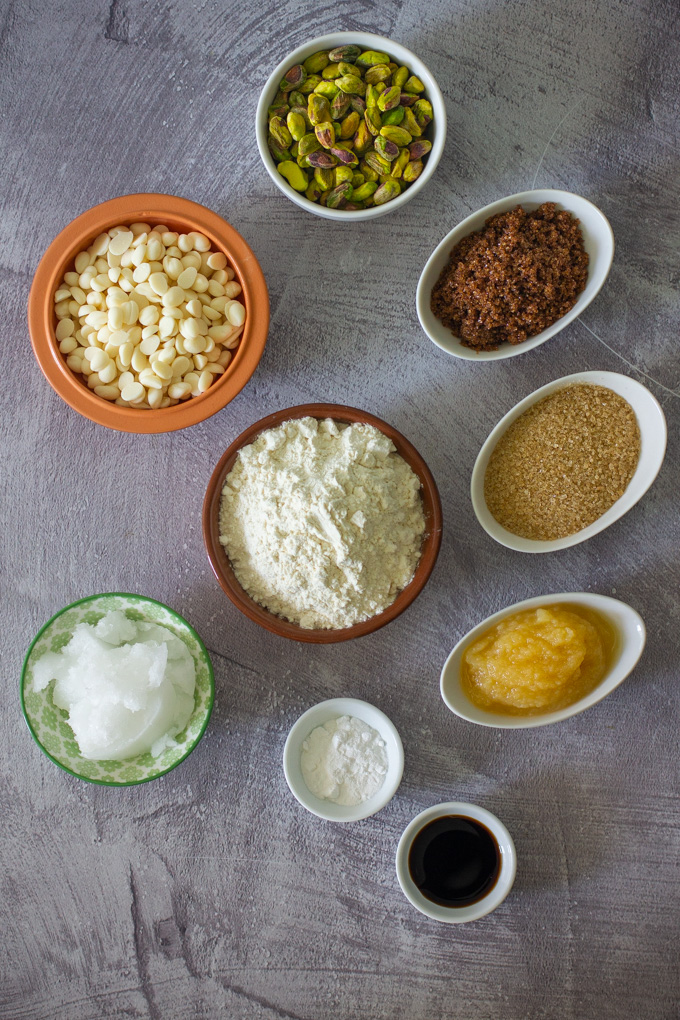 4. Discover a new country. A regular guest in every list and, for me, the most deserving. A really long journey abroad with my family is the pinnacle of my dreams, but will probably have to wait until 2021😊
5. Fix my fear of flights (and maybe some more on the way…). I have the most horrific fear of flights and must take medication before getting on a plane and even that doesn't always help. It sucks, it paralyzes, I hate it. It seems to me that it's time for some professional help on the matter… By the way, I'm scheduled to board a flight to London at the end of this month *alone* for the first time in many years, it will be interesting…
6. Take my dog Kutcher for a few days trip. Kutcher will be 14 years old on March. It's obvious to me that his time with us is not unlimited. It's time for a joint vacation that includes his three main hobbies – sunbathing, digging pits, and eating lots of cheese.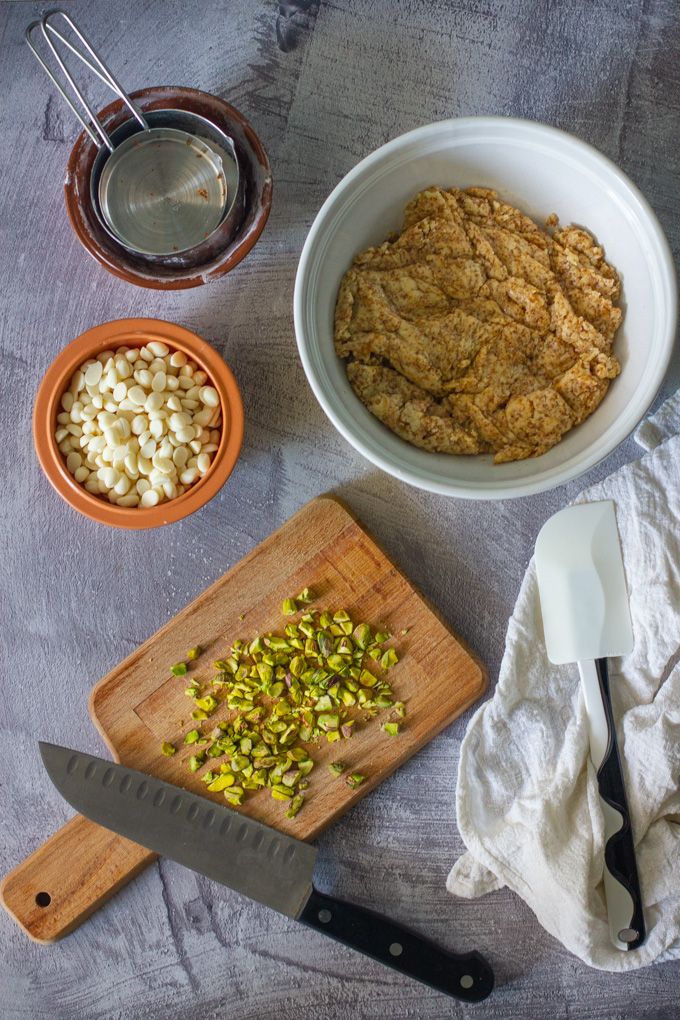 7. Volunteer. Take Tamar with me.
8. Drink less coffee. I was unsuccessful in 2019, recycling this new year's resolution.
9. Get my mom's recipe for her perfect Harirah soup. A hopeless decision, but I promise to try.
10. Not to get excited about laundry piles. Not to get excited about laundry piles. Not to get excited about laundry piles.
11. Continue to discover new music, kicking music, music not appropriate for my age. Keep going to lots of live shows.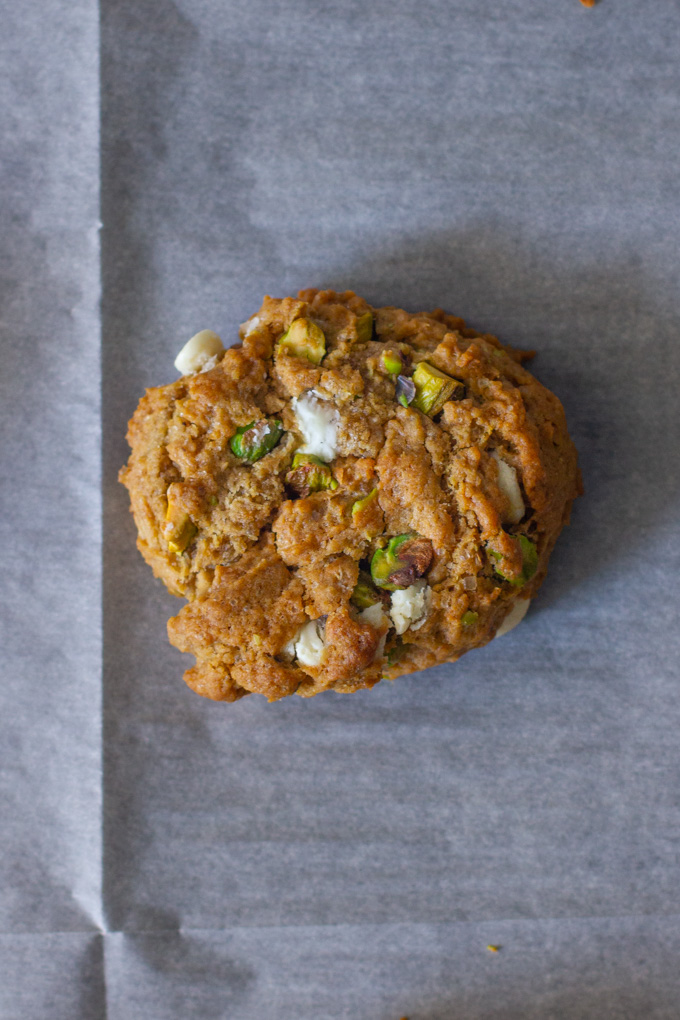 12. Finding the perfect hair product for me. It's unbelievable the amount of energy I've been wasting on this lately …
13. Develop hard copy photos, arrange it in albums. We shoot almost every second of our lives and then those moments remain buried (at best) in messy backup drives. I'm ashamed to say how long this section is in my lists …
14. Choose to laugh more at the nonsense the kids make, less to get upset.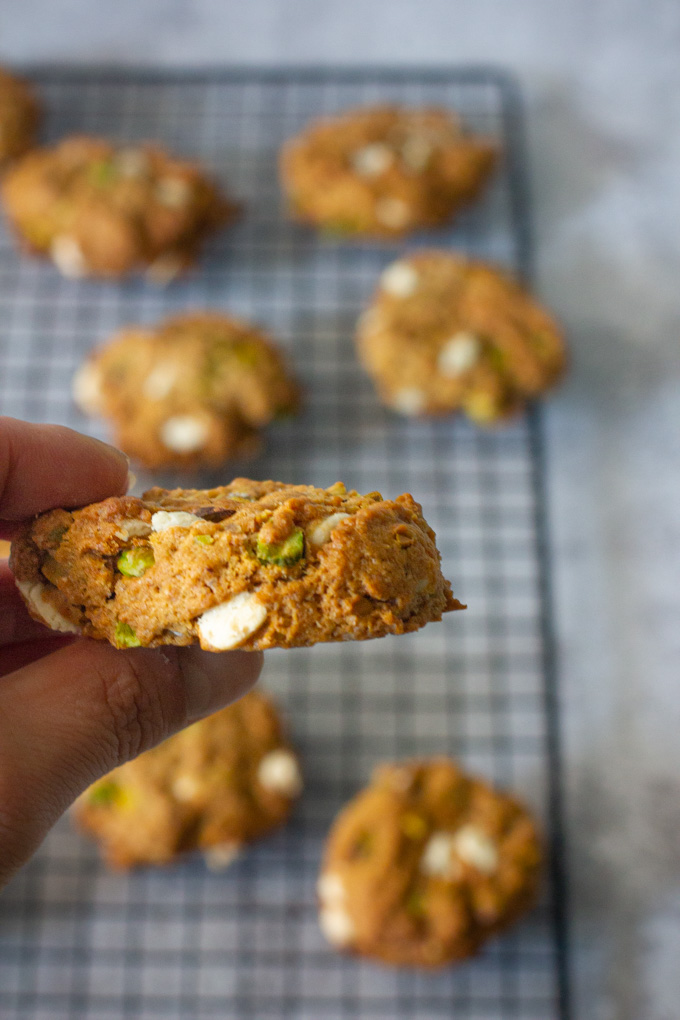 15. Listen to more podcasts in traffic jams.
16. Learn to bake really good bread. My knowledge in that area is minimal, plus I really want the smell of bread in my home.
17. Treat myself for a day nap once a week. Either on Friday or Saturday. Or do I have to decide on a specific day for it to happen?
18. Seeing a really good standup performance.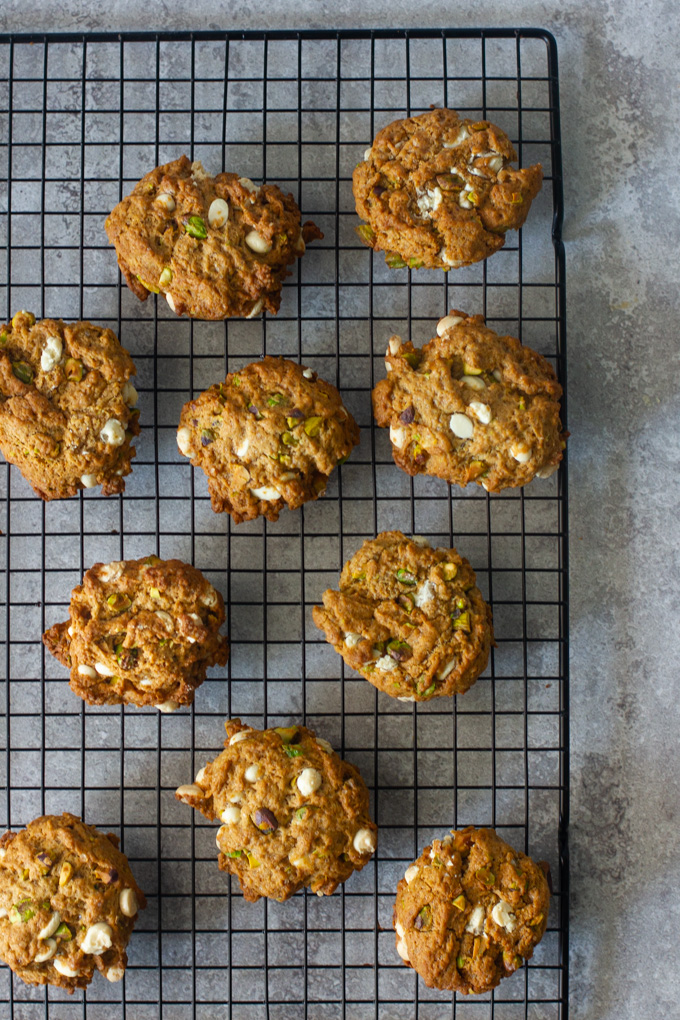 19. Losing my grip on my kids a bit more. Not like I have a choice. Every day they grow older, they are more and more independent, make more and more decisions for themselves. And me? Most days I just try to resist putting them back in my womb.
20. Not to stick to lists.
Have a wonderful 2020 everyone♥

It's a new year, and every new start should begin with something sweet – so we'll have a sweet year! And I swear these cookies are a wonderful choice. Sweet, with a taste that just getting better and better with every bite, so yummy you won't believe they're vegan! Vegan chocolate chip cookies with white chocolate and pistachio, don't say I didn't warn you:)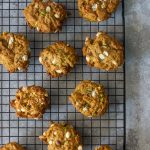 Print Recipe
Vegan Chocolate Chip Cookies with White Chocolate and Pistachio
Ingredients:
2

cups

all purpose flour

1/4

cup

brown sugar (cane or demerara sugar)

1/2

cup

muscovado (dark brown) sugar

1/2

cup

coconut oil in liquid state (heat a few seconds in microwave if needed)

1/2

cup

apple puree

1

teaspoon

baking powder

1/2

teaspoon

baking soda powder

pinch

of salt

1

teaspoon

vanilla extract

1/2

cup

vegan white chocolate chips or 100 gr/ 4 oz coarsely chopped white chocolate

3/4

cup

natural pistachio

,

coarsely chopped
Instructions:
Preheat the oven to 350°F/180°C and prepare an oven tray lined with baking paper or silicone roasting mat.

In a mixing bowl, place flour, brown sugar, dark brown sugar, baking powder, baking soda powder and a pinch of salt. Stir.

In a separate bowl, place the wet ingredients: coconut oil, apple puree and vanilla extract. Stir until uniform.

Transfer the wet ingredients to the dry ingredients and mix until the entire dry mixture is assimilated. Add white chocolate chips and chopped pistachio and mix until well combined.

Make about 5 cm/ 2-inch cookies balls from the mixture (possible with ice cream spoon or with clean hands). Place on the lined tray and flatten the balls with your hands or spoon to obtain a thick disc of 1-1.5 cm/ 0.5-inch high. Don't overcrowd the cookies as they slightly puff during baking.

Bake for 12-15 minutes, depending on your oven until golden and irresistible. Cool and transfer to a sealed box. The cookies are kept for about 5 days, but there is no way they will last that long.